Ontem (10/08) o pessoal do XKCD divulgou uma tirinha muito interessante sobre complexidade de senhas: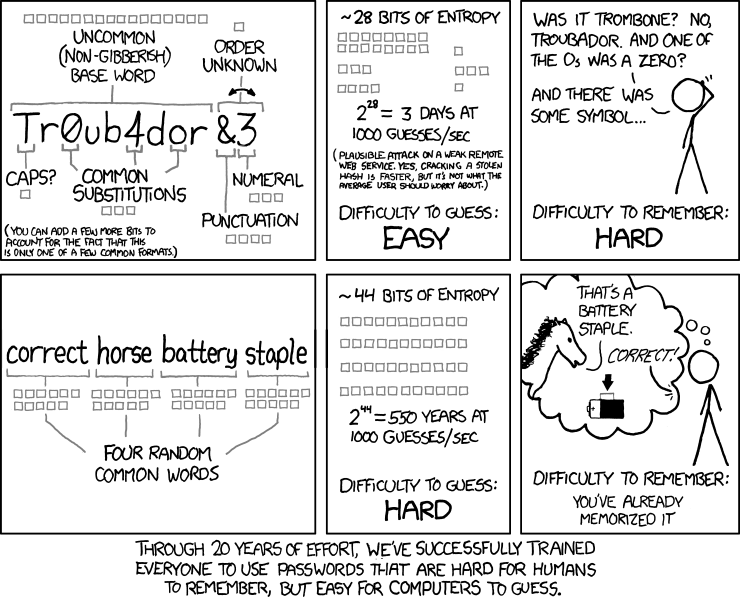 A tirinha fez tanto sucesso no meio que até o pessoal da SANS comentou a respeito:
We got a number of submissions pointing to today's XKCD cartoon [1] . I think the cartoon is great, and illustrates a nice dilemma in password security. Yes, I know passwords don't work, but we still all use them and we still have to come up with reasonable passwords.
(...)
Leia o texto completo em
4n6.cc/QsSLg
E para matar a pau, o time da SANS ainda relembrou outra tirinha: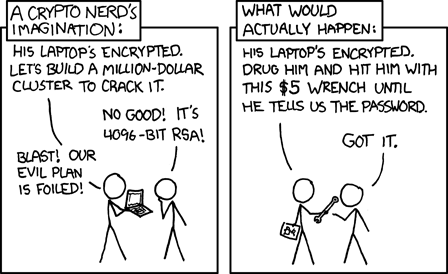 Sem mais, meritíssimo =)
Post completo da SANS:
4n6.cc/QsSLg
Link da 1a. tirinha XKCD:
4n6.cc/lFVZg
Link da 2a. tirinha XKCD:
4n6.cc/DdasG
[update 12/08]
muito interessante esta avaliação da tirinha:
4n6.cc/szTuk